Newcastle's travel to Milan for their Champions League opener hit a rough patch, as their planned departure from Tyneside at around 2:30 pm was delayed until nearly 5 pm. While media waited at the stadium for their arrival, a plane-tracking app indicated they were still somewhere above France.
Manager Eddie Howe commented on their delayed arrival in Milan for the Champions League opener, saying, "It's not uncommon for this to happen. This time, it was due to bad weather, but we've faced similar situations before."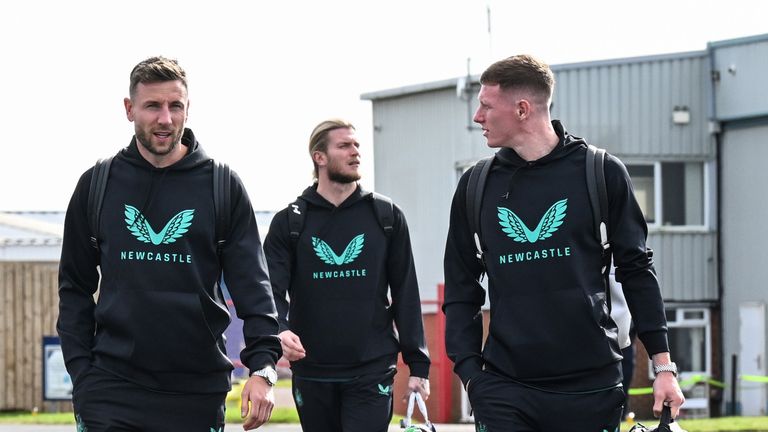 This delay led to Newcastle unintentionally violating UEFA rules governing Champions League preparations. UEFA regulations require teams to hold their pre-match press conferences between 12 pm and 8 pm local time on the day before a match.
A storm hit Milan at 5 pm, shortly after Newcastle's departure, but it remains uncertain whether the storm was the sole reason for the delay. Eddie Howe, the Newcastle manager, explained that bad weather was indeed responsible and revealed they spent nearly two hours on the runway before taking off.
As a result of the delay, Newcastle's press conference began two hours later than scheduled, at 9 pm local time. Despite these challenges, Howe remained confident that their preparations for a tough match against Milan would not be significantly affected, stating that such situations were not unusual in their line of work, even though this arrival was later than they had hoped for the players.
Some might wonder why Newcastle didn't opt for an earlier flight. Well, Eddie Howe's decision to have the team train in Newcastle instead of at the San Siro could be a factor. It's a permissible choice at this stage of the competition, but in the knockout rounds, they wouldn't have that luxury.
One can speculate that Howe might have chosen this to keep their training session discreet, preventing potential onlookers from observing their preparations the night before the game. However, there are consequences to this decision. With their flight delayed by two and a half hours and their press conference starting at 9 pm, the team may not arrive at their hotel until around 11 pm.
This late arrival may pose challenges, especially for players like Sandro Tonali, who need to be well-rested for an early kick-off game. The current situation doesn't appear ideal.
Eddie Howe might be frustrated with how things have unfolded. The responsibility for the delay remains uncertain, but it's clear that these circumstances are far from ideal as Newcastle returns to Champions League football. One would expect a team that frequently plays away from home in England to prioritize settling into their hotel well in advance.